Ron Foster Endowed Scholarship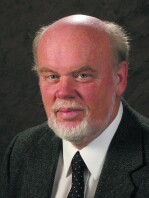 This scholarship is in honor of the founder of the Methodist University PA Program, Ron Foster, who served as the program director from 1996 until 2009. Mr. Foster's vision was to create a PA program that would produce highly trained, competent, and compassionate physician assistants who would remain in our community; thus, alleviating the need for primary care providers in rural and underserved areas. During his tenure, the program gradually grew from a class size of four to forty, and overtime has made a tremendous impact on the quality of healthcare in our community. As of 2021, the program has graduated over 600 physician assistants, with over 70% of graduates remaining in NC, including a high percentage practicing in the southeastern region of the state.
With the rising cost of attending PA school (tuition is now above $105,000), the inability of students to work while enrolled, and the lack of graduate school scholarships, the program wants to establish a scholarship that can be given to select students to help reduce the amount of student loan debt incurred during PA school. Establishing this scholarship would be a first of its kind for the MUPAP and can make attending our program a possibility for students with high financial need.
The goal of the Ron Foster Endowed Scholarship is to raise $25,000 within five years. Please consider how you might help make this a reality for the program and our students. We are grateful for your support and all gifts are welcome. Just imagine, what if 25 graduates were willing to donate $1,000? Donations may be made in one payment or spread out over a span of up to five years. If you cannot give $1,000 or want to give more than $1,000, you may still donate to the scholarship fund. In the event the scholarship does not reach $25,000 in five years, the donations will be designated to the PA General Student Fund to assist with events like the White Coat Ceremony.
What is an endowed scholarship?
An endowed scholarship has been established by a donor(s) and invested with the University's endowment. We will award this fund in perpetuity, spending only the interest accrued in a given year, not the principal. By only awarding from the interest, the fund never runs out and the scholarship will always be available for qualified and deserving PA students. Giving to the endowment provides a permanent source of income for the institution and is a critical part of developing the growth and stability of MU.