Methodist University Monarch Fan Cutouts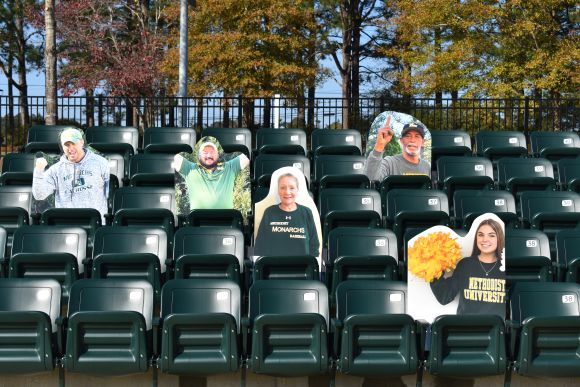 Monarch fans, we have waited patiently for our athletic teams to crank up competition and our upcoming seasons will be fast approaching. As our student athletes and coaches train to compete on the field and courts, Monarch fans now have the opportunity to support Monarch Athletics in their home venues with a fan cutout of yourself, family members, and/or favorite pets.
All cutouts are $50 each and will be placed in the venue of your choice. You will have the choice of picking up your cutout at the end of the season. Cutouts will be displayed in the venue for the entirety of the sport season regardless of the future determination for allowing spectators into the venue. Cutouts must be purchased at least five days in advance to be featured in the venue by a specific date or contest. In the event athletic seasons are postponed or canceled, cutouts will be on display in the Riddle Center throughout the building.
$17.50 from every cutout purchased will go directly to the Methodist University Department of Athletics to help support the athletic teams and their student-athletes.
Once you complete your purchase you will receive an e-mail within 24 hours requesting your photo. Please refer to www.mumonarchs.com for photo submission guidelines. MU Athletics reserves the right to reject any photo that it deems, in its sole discretion, violates its guidelines or is otherwise offensive, lewd, derogatory, infringing, discriminatory or otherwise inappropriate.  The University will not be obligated to provide the purchaser a refund if a submitted photo is rejected for any of the above reasons.